Quantum key distribution
Quantum Metropolitan area network.
One of the main research areas of the group is the integration of Quantum communications in telecommunications networks. The group has also participated in standardization work at ETSI (European Telecommunications Standard Institute). The research has been done building several networks together with Telefónica Research and Development. Considering the limited reach of quantum key distribution, the starting point was a metropolitan area network with the typical structure of core and access and the usual technologies: Coarse wavelength division multiplexing in the core ring and GPON in the access, as depicted in Fig. 1.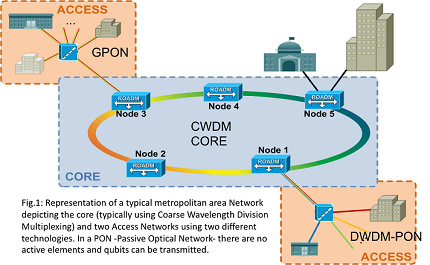 More work on QKD network integration
Multiuser secure quantum communications over standard optical networks:
QKD in next generation network paradigms
Bidirectional integration of QKD systems/networks in software networks: (i) Integration of QKD systems securing future network management and operations in software defined networking and network functions virtualisation architectures. (ii) New applications and service chaining involving QKD systems for secure transactions. (iii) Control plane enabling flexible QKD networks. This work is being carried out in the third generation network.
QKD postprocessing
Shortly presented below, our main contributions to the field of information reconciliation (error correction) in the context of secret-key agreement: efficient and high-speed information reconciliation methods proposed for QKD.